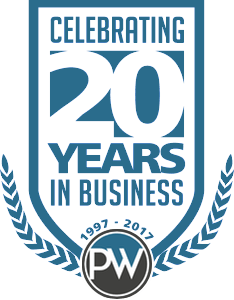 We're happy to announce that we're celebrating 20 years in business this year! We still have a few customers that have been with us since the beginning, too.
We started out building websites when the Internet was barely born under the name Web Wizards, and grew from hosting a handful of sites to hosting hundreds of sites across a cluster of servers. We're building and redesigning more websites than ever before, now specializing in WordPress, and renamed ourselves a few years ago to Press Wizards®.
A few years ago, we created a few WordPress plugins, hosted a lot of WordPress Workshop meetups, spoke at WordCamp San Diego, and have been very active in the WordPress community.
Last year, we launched a new brand as well, focusing on WordPress maintenance, security, and performance (with free hack repair and malware cleanup!) named WordPress Site Dr. that delivers website health reports as a monthly subscription (and a great maintenance affiliate program, too).
We invite all our customers to share their stories of their experience with us over the last 1, 10, or 20 years with us, and let us know what you love, how we can improve, and what we can do to help make your website better – email us using support at presswizards.com – we'd love to share your words and website in our testimonials, and do featured posts on websites we host in the near future. Related, as a customer, there's no better way to show your support by recommending us to your visitors, by joining our hosting affiliate program and adding our logo to your website – earn monthly commissions on every referral.
Thank you to every customer past and present, and especially those that have supported us from the beginning – we're not going anywhere, and look forward to the future together.
~ Rob Marlbrough
and the Press Wizards team