With the numerous SEO and Google Analytics plugins available for WordPress, it's surprising that Google has taken this long to release their own plugin, but they've just announced one, named Site Kit by Google.
Site Kit by Google allows users to access information in Search Console, Analytics, AdSense, and PageSpeed Insights from the WordPress admin panel.
With Site Kit, you get authoritative and up-to-date recommendations from Google. Site Kit is ideal for website owners who want easily digestible information about audience and revenue performance, all in one place. Site Kit shows key metrics and insights from four different Google products:
Search Console
Understand how Google's systems discover and render your pages. Track how many people saw your site in Search results, and for what queries.
Analytics
See how users navigate across your site and if they complete the goals you have set as conversions.
AdSense
Keep track of how much your site is earning you. Or if you haven't yet, make your good content work for you by setting up an AdSense account.
PageSpeed Insights
See how your pages perform compared to other real-world sites. Improve performance with actionable tips from PageSpeed Insights.
Easy Setup and Quick Stats
A simple 1, 2, 3 step process for authenticating and connecting your WordPress website to your Google account and the various products, and then enjoy superb integration, with stats for each and every blog post and each page.
Get to the stats in just a few clicks with the simple setup process. Set up additional modules as you go, to get richer insights from more Google products.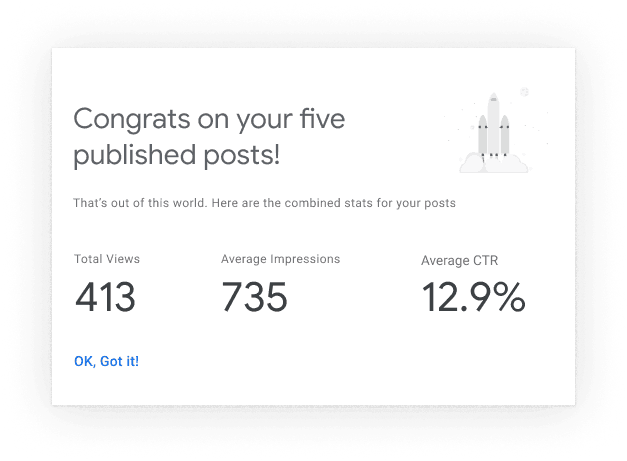 Published milestone stats include total views, average impressions, and average click-through rates (CTRs).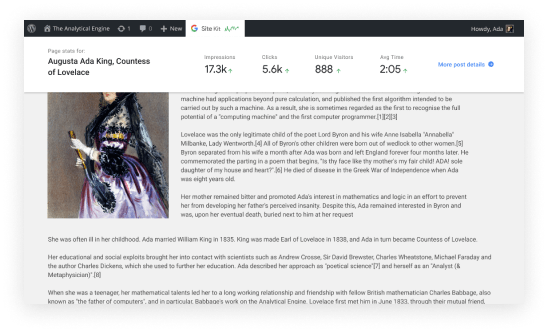 See stats for each page by accessing the stats in one click directly from the admin bar.
Site Kit by Google is a free, open-source plugin bringing together insights from essential Google products for WordPress sites. Where it is helpful, Site Kit will also provide deep links into Google products for advanced reports and product configuration capabilities. Site Kit provides up-to-date and authoritative product and site recommendations by Google, with actionable guidance and insights optimized for WordPress site owners. Google product and UX leads have worked to make Site Kit both useful and easy to use.
Google states the plugin can be installed alongside other plugins, and shouldn't conflict with their continued use. It will remain a free and open-source plugin, but Google products that it connects to are subject to their standard terms and any fees (if any).
Site Kit will open to beta testers in early 2019, and we've already signed up for early access testing of the Beta release. If you're willing to provide early feedback to help build a great experience for WordPress, you can also request early access and product updates below.
Google Site Kit WordPress Plugin Screenshots